Plans to use $4.6 million from the VW "dieselgate" settlement to install DC fast chargers along 6 major routes in New Hampshire are on hold because there were no suitable bids to the state's request for proposals last winter. The RFP is being reworked but COVID-19 restrictions have gotten in the way and no new release date has been announced.
Details about the process, including comments from a bunch of folks, can be seen online at https://www.nh.gov/osi/energy/programs/vw-trust-funding.htm
"There were no qualifying bids for the RFP and it is being re-worked based on information gathered through a listening session and comments submitted following that session," said Rebecca Ohler of the Air Resources Division of New Hampshire Department of Environmental Services.
Those suggestions ranged from the technical – such as requiring at least a 50 kW power rating and Open Charge Point Protocols for network communication – to questions about who should own the stations, to more general suggestions.
New Hampshire is a laggard in terms of public vehicle-charging stations compared to its neighbors.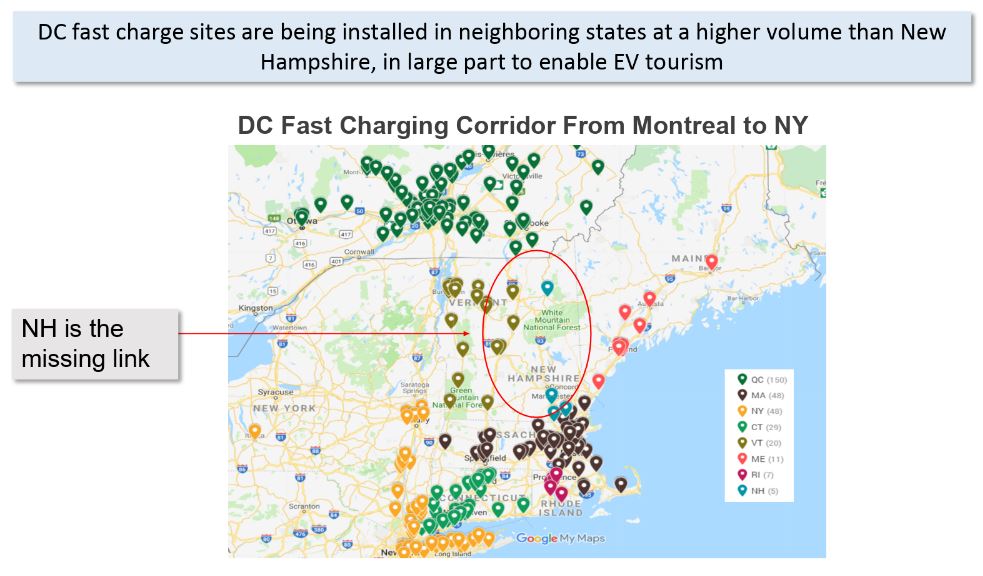 The money for the charging stations comes from New Hampshire's portion of a $15 billion settlement of a lawsuit by the U.S. government against Volkswagen for rigging its diesel vehicles' computers to cheat emissions tests. The settlement is distributed to states based on the number of vehicles affected; New Hampshire is receiving $31 million.
As previously announced, $4.6 million of the state's money will build charging infrastructure for electric vehicles; $15.5 million will go toward replacing diesel-powered vehicles owned by state and local governments, including school buses, with alternative-fuel vehicles; $6.2 million will be up for bids from public or private groups that have proposals for ways to spend it that will meet the program's goals of reducing the state's air pollution caused by vehicles; and $4.6 million has been earmarked for administrative costs.