Business boosters are excited about the expansion of biotech firm United Therapeutics in New Hampshire but the corporate hangar it will build at Concord Municipal Airport is exciting for another reason: Glulam. Lots and lots of glulam.
"The entire skeleton and truss system is glulam. We've never done anything like it and I don't think many have," said Evan Herron, project manager for Silver Maple Construction of New Haven, Vermont.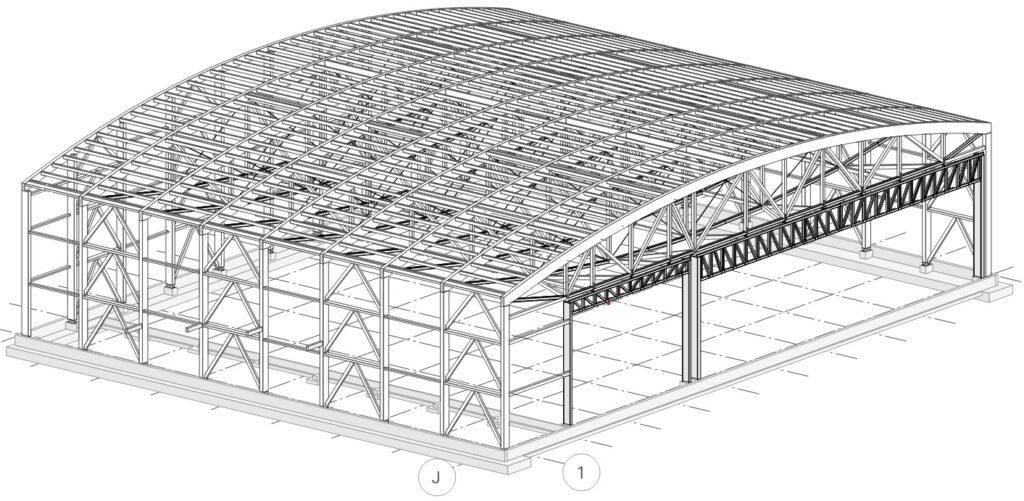 Glulam is a term for wood beams and panels made by gluing together smaller layers of wood, or laminations, into pieces that are big enough and strong enough to replace steel and even concrete in commercial buildings. It is part of the industry trend of engineered lumber, which has a number of names including mass timber, that combines smaller pieces of wood in novel ways to make large construction products.
Engineered lumber is still fairly uncommon but its use in growing, and around the world it has replaced structural steel and concrete in buildings as tall as 25 stories. At least one commercial building has been built in New Hampshire with engineer ed lumber: an office block in Portsmouth made with cross-laminated timber or CLT.
The 210-by-170-foot airplane hangar planned at Concord airport by United Therapeutics, a Maryland medical research company, will be the first in the Concord area.
The advantages of engineered lumber are partly aesthetic: It can be shaped in interesting ways and made to look great since, after all, it is wood. But the big benefit is environmental.
Using wood in commercial buildings can lock away tons of carbon contained in the tress and, perhaps more importantly, avoids the carbon pollution that would have been generated by making steel or concrete, both of which produce large amounts of greenhouse gases.
Increasing the use of engineered lumber in commercial and industrial construction is one of the many changes we have to make to limit the future damage from the climate emergency. That is a big reason United Therapeutics is using glulam in Concord, Evans said.
"They don't care just about building nice buildings, but environmentally sustainable buildings," he said.
Art Massif, the Quebec firm making the glulam beams, estimates it will trap 522 tons of CO2, which it claims is equivalent to removing 104 cars from the road for a year.
Engineered lumber has another advantage for heavily forested New Hampshire. It provides a new market to loggers for those portions of trees that can't be turned directly into boards.
The big drawback of engineered lumber for the foreseeable future is cost. Evans estimated that the glulam structures, made by the Quebec firm Art Massif, were about 50% more expensive than traditional steel supports. This cost should come down as more manufacturing facilities are built, and as architects and developers become more familiar with using it.
Using engineered lumber may also require some changes in fire department response. Engineered lumber tends to char rather than openly burn like traditional lumber used in home construction, but does carry more fire risk than steel supports.
Another novel aspect of the construction, Herron said, is the use of pre-fabricated wall panels made at the company's Middlebury, Vt., factory.
"It's also a case study in pre-fabrication, "he said. "It will greatly speed up construction in the field."
The company hopes to break ground by the end of April.